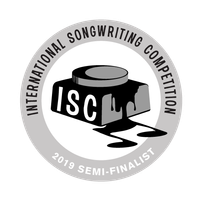 Selected as a semi-finalist in the 2019 International Songwriting Competition (ISC). 
From post-punk beginnings to melancholy daydreams, New Jersey based singer-songwriter, Dennis King AKA Sonofdov, writes hauntingly beautiful music. The kind of songs that "transport us and pierce us". To date, he has self-released five EP's and a pair of singles with critical acclaim for both songwriting and his ability to capture universal struggles within all of us. His music has been featured in films(Coyote, Wander),TV(PBS,Discovery) and frequently found on a number of Youtube playlists.  As a  2016 NJ Folk Festival award recipient, King is able to straddle lines of folk, post-punk and any other DIY rock esthetic to make his own sound. On November 8th, 2019 Sonofdov released his first full length LP entitled "Towers" available on Mint 400 Records and followed up with an EP entitled, "Battle Lines" April- 2020. 
"The power of "Battle Lines" is in the simplistic beauty of Sonofdov's music and its entrancing production that balance an intelligent depiction of raw emotions, which in less capable hands, would be morose. Instead, they are relatable, often enjoyable and extremely cathartic. And who couldn't use catharsis right now?" -Bob Makin (2020)
"The music of songwriter Sonofdov makes me feel something different with every listen. The talented musician from New Jersey is able to layer a song with creative arrangements and haunting lyrics that build into something as heartbreaking as it is up lifting". -Ear To The Ground Music 2019

"Singer-songwriter Dennis King, AKA Sonofdov, has a way of conveying universal feelings of yearning, sadness joy and searching for that something, that drives all of us", You Don't Know Jersey
"I heard King's music and it haunted me in the most beautiful way imaginable" -Just Music Thoughts
" a majestic four track EP with simple but surprisingly powerful folk, as the American masters the art of composing ballads that transport us and pierce us" -Ziklibrenbib(French music site) 
"Hit me where it hurts" sings the natural singer songwriter Sonofdov. Off of his extraordinary EP of the same name, it technically is not a '16 release. However, I wasn't able to get my ears around it until recently. Either way, this is a damn good song. Ethereal and atmospheric, it is bound to stay with you long after you play it. His voice is unique and quivers well with the gentle instrumentation. Dennis King, aka Sonofdov is bound to draw much deserved similarities to fellow New Jersey singer Bruce Springsteen. This one belongs on this list for this or any year." Matt Simon-Ear to the Ground Music
*Additional credits available upon request.